Testimonials
Thank you! We had a great time on our trip (Hawaii and New Zealand) – we wouldn't change a thing about it and worth every penny.
Please know we loved the trip and wouldn't change a thing – we were exceptionally happy with the whole thing.
We hope to go to our last 2 states and go to Glacier National Park in the next couple years, but are hoping for my 40th to finish seeing all the Hawiian islands. We'll be back in touch for that. Don't retire or change careers until we get that done.
Andrea and Jensen
---
Janelle was referred to me by my brother and sister-in-law who used her services for their Honeymoon 3 years prior. My husband and I travel very often, and to date had always done our own trip research and coordination. For our Honeymoon we decided on French Polynesia, and we wanted the help of a seasoned professional who knew the islands in and out and could guide us into the perfect itinerary. After all, we had a wedding to plan prior to our trip and we didn't have the time to spend on the planning as we usually would. Janelle proved to be exactly what we were looking for in a travel consultant.
Janelle and I spent a lot of time on the trip planning. In the end we landed with a 10 night stay in FP including 4 nights at the Sofitel la Ora Moorea, 5 nights at the Intercontinental Thalasso Resort Bora Bora, and 1 night at Le Meridien Tahiti. Janelle arranged all of our accommodations, our ground transfers, and our domestic flights.
Having just returned from our 2 week trip, I can say (happily!) that all her planning went absolutely perfect. Not only were their no glitches, but through Janelle's relationships, we received Honeymoon amenities and the very best accommodations in each of the properties at no additional expense to us. Additionally, Janelle was a constant resource for me throughout the process both in advance and onsite with offering suggestions and answering questions on all topics imaginable.
I highly recommend her services when planning your trip and can guarantee you won't be disappointed.
Jeana and Dan
---
Dear Janelle,
We wanted to sincerely thank you for booking our honeymoon at Couples Swept Away in Negril, Jamaica, in May.  We had a wonderful time and will definitely be going back in the future!  The resort was just beautiful.  Food, service, and accommodations were fantastic, and the beach was pristine.  It is now our favorite beach!  We couldn't believe how much was included in our package – from the number and quality of restaurants and the awesome beachside drink service (the cocktails and fresh fruit smoothies were to die for), to the spa and sports complex (we felt like VIPs when we played on our own personal clay tennis court!) and the various beach activities (we especially liked the sea kayaks and 2-person catamarans).  One of the many highlights of our trip was the big catamaran tour where we went cave swimming, jumped into the ocean off the catamaran's sliding board, and sipped rum punches while watching a beautiful sunset on the way home. CSA is truly a hidden gem, and it will be hard for us to go anywhere else the next time we crave a fun & carefree beach escape!
The logistics of our travel were seamless, too.  Our flights and ground transportation were timed perfectly.  When we arrived at Montego Bay Airport, the bartender at the CSA lounge told us we came in on the best flight because we didn't have to wait long for the shuttle and it was less crowded than later flights.  Our trip back to the US was equally as smooth.  Thank you for taking all of the stress out of planning our honeymoon!
Yours truly,
Jen & James
---
I was referred to Janelle via a co-worker who used her to plan her honeymoon.  I am one of those travelers who never, ever uses an agent and feel as though I am able to book a trip on my own.  I reached out to Janelle with a basic description of what I was looking for (we went to Hawaii) and I swear, no lie, my honeymoon was booked no more than 48 hours later.  Everything my wife and I were looking for was done and not for a single cent more than what we asked Janelle to price it at. She is so detail oriented and amazingly responsive.  I had this trip planned and booked before we even picked out the menu for our wedding!  She really took care of every little detail.  Even after everything was all said and done she was able to save us money and was deal hunting for us up until a day or two before we left.   
 We could have not imagined a more fantastic, seamless honeymoon without her help.  She even checked in with us during the trip to make sure everything was going ok and that if we needed anything to just reach out.  A true professional. 
 Thanks again Janelle for an amazing honeymoon!
 Mike & Marian
Photo Courtesy of Michael Kraemer
---
Hi Janelle,
Thanks for making this happen. This is the best trip ever in my life, we had so much fun. I visited other hotels in Moorea while I was there and found out the Hilton has the clearest and the most turquoise color lagoon compare to other hotel, I'm glad that you recommended this hotel for our wedding. Also, the photographer Helene was just so professional and friendly, again thank you for recommending Helene.
The trip is worth every penny. My husband and I are planning to visit Bora Bora for our next trip.
Yien Sing
Photography by Helene Havard- Bora Bora Wedding Photography
Photography by Helene Havard- Bora Bora Wedding Photography
---
I was referred to Janelle by a close friend when the task of planning my destination wedding called.  Overwhelmed with planning, I decided to take a chance with Janelle and it was a miracle from heaven! I provided Janelle with my details and budget and she found the perfect package for myself and guests at Couples Swept Away Resort in Negril, Jamaica.  With a guest list of thirty, Janelle took care of all our travel needs in an organized and timely manner and in the event she was unavailable, Cathy was attentive, helpful and a problem solver!
Couples Swept Away is not only a great deal, but their service and property is unparalleled.  Upon arrival, we were instantly "Swept Away." We were greeted with a cool hand towel and a glass of sparkling champagne.  After checking in, our luggage was picked up and we were escorted to our suite.  As soon as the door swung open, we were introduced to impeccably spotless accommodations that smelled pleasantly of lemongrass.  Every need was met and if it was not readily available, concierge was happy to assist.  Our wedding was more than we could ever ask for.  Alicea was our coordinator and she went out of her way to make every detail run smoothly and beautifully.  We were treated like King and Queen and our guests were treated with the same sentiment.  Every one of our guests left saying "We are definitely coming back next year!"  This location is truly a gem.  Thank you Janelle for suggesting this location and for all of your help : )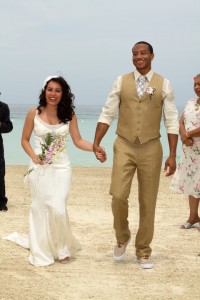 ---
Janelle,
We had a very early flight on the day we left. Both flights were on time, however, the second plane was SMALL! (American Airlines is going to be flying to St. Lucia direct SOON!) When we arrived in St. Lucia, our transfer was waiting for us. The airport in St. Lucia is tiny. I have been on several vacations when the transfer had to make several stops at various hotels to let other people off, so it was great that we were the only ones in the van. This saved so much time and we were excited to get to our cottage. The driver was friendly and answered many of our questions as we headed to our hotel (or should I say paradise?) By the time we arrived at Ti Kaye Village, it was about three o' clock and we were hungry! We were greeted with a complimentary rum punch (yummy, but I prefer mine without the nutmeg.) As we sat down for a delicious lunch in their beautiful, open (no walls), relaxing restaurant, instrumental music was playing. We looked at each other because it was not just any music. The song that we heard was our wedding song!!!! Needless to say, we knew that we chose the perfect destination for our honeymoon.
When we were escorted to our oceanfront cottage, we were amazed. There were flowers on the king sized four-post bed, as well as on the two robes that were neatly folded on the bed. The deck with rocking chairs, table, and hammock overlooked the water. The outdoor shower was one of the highlights. What freedom! The best part was definitely the plunge pool! Nine of the cottages at Ti Kaye have private plunge pools. The cost of the cottage increases, but it is so worth it!!! It was the best, especially during the sunset or after lunch to cool off instead of having to hike down 161 steps to get to the beach. The steps are steep and windy and a little bit tough walking back up in the sun, but it's a way to get some exercise. Rarely do you see a location advertised where the pictures are breathtaking, but when you arrive there, you are even more pleased. The plunge pool was right over the water! The first time I saw it, I opened the door to the outdoor shower and I said "You have to be kidding me!" It was truly unbelievable.
The cottage, along with the restaurant and beach bar, was very clean. One day the filter on the plunge pool was not turned on, and it was not as clean as it was the day before. We called the front desk and they immediately sent Santis to rectify the problem. The staff was very friendly. They were accommodating, funny, and eager to please. The two ladies in the lobby, Giselle and Lita, were wonderful and professional. George and Gus were always kidding around and were really nice guys. I loved the fruit punch at breakfast and I asked for it at lunch one day and the waitress made me a blended drink from the fruit punch. The day we went to Castries, we bought passion fruit and the staff made me juice.
We read about not missing the fish fry on Friday night. It was a lot of fun and after a few drinks (and a few more), it was really an ice breaker and a great way to get to know the other couples and vacationers. The only other evening we chose not to eat at Ti Kaye was when we went to the Rainforest Café. It was good, but I didn't feel it was worth the $70 water taxi. Even if you go with other couples, it is still $70 a couple just for the water taxi. We loved all of the meals at Ti Kaye. We loved the ambiance of the restaurant at night. We were sorry we did not try the St. Lucian breakfast until our last morning there, because it was delicious.
My husband rented snorkeling gear and tried scuba diving, but I did nothing but what I intended on doing – relaxing! We took a half day trip to Castries for shopping and lunch. Our honeymoon was perfect. When anyone asks me, I say that our travel agent, Janelle, really listened to what we wanted. If you are looking for a secluded, relaxing, beautiful honeymoon, I strongly recommend Ti Kaye Village. We will definitely return. We booked about ten months ahead of time, and because we did, we were given the best cottage (M – Mele). The reason I feel this way is because it was all the way on the end with nobody to our left, the ocean in front of us and with the private plunge pool. The sunsets were wonderful, as were the wine and fruit basket and the couples massage (they came right to our cottage and gave us the massages right on our deck.) We could not ask for anything more but to have stayed longer!!! We loved Ti Kaye Village, the food, the staff, the beach, and the cottage. One day, we hope to visit again.
Carla
---
Janelle,
We just wanted to thank you again for planning such a great honeymoon for us. Everything went so well with the transfers, hotel arrangements, and the advice you gave. It will forever be a trip that we will remember, and one that we will hopefully be able to take again on an anniversary.
I apologize for the delay in this e-mail, but upon returning we both became very busy and had several adjustments to make. As a note, we will definitely be recommending you as Sharon did for us for any friends that are thinking of going to French Polynesia.
Thanks,
Ashley and Nate Whitley
---
Hey Janelle,
Just wanted to say thank you for all your help and suggestions with the honeymoon. We had a terrific time at the One and Only Pamilla. The transportation worked out perfect as well. Overall we could not have been happier and can definitely see ourselves going back to that resort in the future.
Thanks again Janelle.
Very Best Regards,
Neil Kelly
---
Good Afternoon Janelle,
WOW!! What a fabulous recommendation you had for the Amanyara. Things here have been awesome. The staff and the amenities have been great. Thanks again for all of your help!
Chris & Amanda
---
Janelle,
Air Tahiti Nui flight from LAX to Papeete: Our flight from NYC arrived on time which meant we had about 3 hours until our ATN flight left. Luckily, since we flew American, we were able to check our bags through to Papeete with no problems. Our flight was probably half full or less and we were in 2 seats next to each other (in the 2-4-2 configuration). We didn't move to spread out in the center rows, but we could have if we wanted to. We thought the food was relatively good, considering it was airline food. It was nice to have the movies and games, but we mostly slept on the way over. Overall, flight was fine. I was glad we didn't urpgrade with cash to business or first. Would have if we had the miles, but probably not for cash as it was expensive.
Radisson Papeete: We got to Papeete, grabbed our luggage, and found Marama tours. It was all easy, no problems there. We thought the Radisson was very nice, although it was quite far from the airport. Didn't spend much time there but we did get an oceanview room with a jacuzzi. Our transfer arrived a little early the next morning and we left shortly after 7:00 am for our 9:00 flight. We were glad we did because it took us about an hour to get to the airport with all the traffic, very congested. Originally we were a little nervous about making it in time to check into our flight, etc, but once we saw the domestic terminal we just smiled and knew we would be fine. We really liked leaving early that day so we had the full day on Moorea.
We met our Albert's transfer at the Moorea airport and he brought us to the IC. Bit of a ride (and boy could Ramon talk) but it was nice to get a tour of the island. We were happy when we got to the hotel that our beach bungalow was ready for us, but we did not get our request. I was a little disappointed at first, but honestly, you really can't be disappointed there for long
We got #307, which I think was one of the better ones, and would suggest it to other people. Our only complaint with the bungalow was that we saw lots of tiny ants crawling around, but quickly figured out that they were coming from the flowers that housekeeping brought to the room. So we killed the ones we saw with the spray they leave you and then asked them not to bring the flowers anymore, so problem solved
When we arrived I have to admit I was a little nervous about the food and drink prices since everyone talks about how expensive it is, etc etc. Honestly, we didn't think it was bad at all. Maybe since we live near Boston and are used to city prices, we really weren't shocked, and I was actually a little relieved. Yes, if you're going to drink pina coladas all day you will pay dearly for them, but beer and wine was close to what you would pay here, esp at a hotel. Overall, we really liked the food at the IC and loved having the beach bungalow, definitely the way to go. The only excursion we did on Moorea was the 4×4 tour with Tom from Albert's, and that was a lot of fun. Our bungalow was across from the dolphin center so we could watch the dolphins when we wanted, but we mostly relaxed on the beach or our deck and snorkled.
The only drawback to the IC I think is that it's a little far removed from other resorts and restaurants, which we liked because it was so quiet, but if you want to go shopping and out to dinner a lot it would be a bit of a drawback. We went to the Petit Village twice and bought a bracelet at Tahia Collins (fun
). Our only dinner out was at Alfredos on Thursday night. We both liked our meals, and Ron for the entertainment. We had to wait quite a while to get the shuttle back to the IC because they only wanted to make one trip, so we had to wait for a large party who arrived at 8 to finish, while we had arrived at 7 and were ready to go by 9:30. we ended up waiting an extra hour, which wasn't bad since we had Ron but did increase our bill
Now while we liked Moorea and really enjoyed ourselves, we had no idea what we were in for on BB. We got our Albert's transfer to the airport for our flight to BB and checked in. Our bags were overweight, which we knew, so we paid up front for the round trip flight since they offered a 30% discount (we did the math- even with what we weren't bringing back, it's worth it). There was a little bit of confusion when we arrived in BB as they didn't seem to have our confirmation sheet, but they showed us to the shuttle boat and off we went. I think the best moment of the trip is when we were going by the new Four Seasons, St. Regis and finally arrived at the Thalasso. We were stunned, as were the 3 other couples on the boat with us. Unfortunately, they were all at the Moana, so while we got off (wondering if we were at the right place since no one else seemed to be moving) they were sitting in awe. I knew it would be beautiful, but nothing can prepare you for that.
We were brought in one of the cart to the reception area, where we sat ourside enjoung our juice and chocolate mousse by the ocean (how can you beat that!). We filled out our paperwork and off we went for our tour and to the bungalow. Again, we did not get our request, and we were fairly close to the beach which was a little disappointing at first, but I think in the end it was nice to not be so far out. We were in #240. It was ok, probably not one of "the best" ones but we're not really complainers
It was nice knowing that we had the meal plan on BB and I would probably look into doing it again if (when
) we went again. We ate at the restaurant 3 of the 4 nights, as we tried to get a reservation at Bloody Marys when we arrived but were told they were booked for our entire stay for dinner. Our one dinner on the island was at Villa Mahana, which was amazing. We each got the tasting menu, not the Royal but the other one. We ate every bite and were stuffed, of course, but we saw some other people sharing one meal and I have to say, I wanted my own
Expensive- yes, but not moreso than we would pay for that kind of meal in a French restaurant in Boston, and it was 10 times better. We did make it to Bloody Mary's for lunch which was fine, at least we got to see it and have a couple drinks at the bar. Wasn't the same experience as dinner I'm sure but we still got the effect.
We did the shark and stingray feeding tour and booked through the hotel. I'm not going to lie, I was scared. I had never snorkled before so Moorea was good practice, but the guides were definitely pretty nonchalant about the whole thing. It was a cool experience, I'm glad we did it, but I don't think I'd feel the need to go again
I did book the spa for a couple of treatments and they were wonderful. I had a body scrub and a facial. The facial was the best one ever, so relaxing. The esthetician even gave me a foot massage while she had a mask on my face- heaven!! I would definietly suggest booking the treatments you want before you go as I went to book the first morning I was there and had a tough time getting in during our stay. People who book the honeymoon packages, which are very extensive, book up a lot of the available time and have first pick, obviously. So my recommendation to other people going (at least this time of year) would be to book restaurants and the spa before if they can.
Our flight from BB to Papeete was delayed for a while, 1 1/2 hrs or so, which made everyone scramble to catch their connecting flights. it was definitely chaos. we had several people on the direct flight to NYC who were freaking out because their flight was supposed to leave PPT at 9:00 pm and we landed around 8:50. we had to scramble to catch our 10:00 pm flight but made it ok. Flight back was fine, a little more full than the way over, but comfortable enough.
Overall, the trip was amazing. I'm glad we did the length of time we did, the islands we chose, and the order. we liked Moorea, but after going to BB, don't think we would go back. I just liked the BB atmosphere better, as did Kevin, which I think would lead us to do Tahaa and BB next time. I'm really hoping for a return trip for our 2 yr anniversary
We didn't really felt like we overpacked much on clothes, but we did bring dvds, books, a portable ipod player, stuff like that. We LOVED having the ipod speakers, the best thing we brought. we used it every day. we brought floats and used them a few times, probably wouldn't bring them again. definitely liked having a couple of bottles of liquor just to have drinks and relax in our rooms without having to go to the bar. All the advice we got was wonderful.
So again, can't thank you enough for all of your help along the way. It was definietly the trip of a lifetime!!
Thank you,
Katie Tully
---
Hi Janelle -
We had an amazing time, everything was very orderly and professional – your help is was much appreciated. Dinner at La Villa Mahana was exceptional and the weather early on was spectacular. We ran into a little rain/wind while in Bora Bora for a few days, but it was a great experience.
Much appreciated, will be sure to recommend you to others.
Thanks,
Eric
---
Janelle,
Here is our review of our Thanksgiving stay at the Four Seasons Costa Rica.
Airport:  Although several hotels have shuttle service, we arranged to have Swiss Travel transport us between the airport and the hotel.  I think we were scheduled/paid for shared van service, but ended up having a private ride in both directions.  This company was terrific, the drivers were very friendly and knowledgeable, and they even stopped along the way for us to take pictures of wildlife, etc.
Hotel: Upon arrival to the hotel, as with any 4S trip, we were greeted by name and offered fruit juice and a cold towel.  The staff remembered our names throughout the duration of the trip and were some of the most friendly and knowledgeable people we encountered. We did not have to check in at the front desk, but instead we were immediately transported to our room.  We were even given an upgraded premium room!  Although we stayed on an upper level with an oceanview, we heard that the gardenview rooms (first floor) had a better view since they did not have the thick foliage from the trees outside which the upper level rooms had.  In terms of location, I think all of the rooms are great.  Unlike the 4S Maui which is much larger, this 4S is more intimate and pretty much all of the hotel rooms had a fantastic view.   While here, we also took advantage of the spa and the golf course.  Both were fantastic and we highly recommend them!  Although we brought our own clubs, we were told that club/shoe rental is free during the twilight (i.e. after 2pm) golf.  There are 3 pools and 2 beach areas.  One of the pools was for adults only and was right near the quieter beach.  The staff came around frequently to offer complimentary frozen smoothies, popsicles, water, cold towels, face mist, and even cleaned our sunglasses!  Although we were told the beaches are public and various people may wander around selling things, we saw very few vendors and they were very nice and quick to walk away if you said you were not interested in their products.
Activities: Upon arrival, we immediately signed up for the free activities offered at the hotel and I recommend signing up early, especially since they can only accommodate 6 people.  We did not do any of the hiking trips, but we really enjoyed the kayaking/snorkeling.  In addition to the hotel activities, we pre-arranged a tour with Mainor Lara (Tours Your Way) who we highly recommend.  We first heard about him from Trip Advisor and decided to book the Hacienda Guachipelin tour.  This tour was a full-day adventure of horseback riding, whitewater tubing, ziplining, rock climbing, rappelling, swinging, and visiting the mud bath/natural springs.  We were also provided with an excellent Costa Rican lunch (at a local restaurant) and Mainor took us on a few detours- we stopped at a pineapple stand, the supermarket, and a waterfall that was a hidden paradise.  Although a full day may seem exhausting, it is nice to get everything done all at once, especially when you are staying at a hotel that is far away.  One thing to mention is that although the hotels offer similar tours, those tours do not include the whitewater tubing (which was an incredible part of the trip!) and are more costly.  Mainor is very knowledgeable, speaks excellent English, and will pretty much accommodate your needs on each tour.  You will also learn to appreciate early on that having a tour with only a few people and traveling in the air conditioned van is much more luxurious than the large school buses and the large number of people in the other tour groups.  If you plan this kind of a tour, definitely bring a thin pair of hiking pants (for the horseback riding and the zipline) and a dark bathing suit that will not get stained from the volcanic mud bath.  Bugspray is also important (and much cheaper if you buy it in the US and bring it with you) as is calamine lotion.
Food:  Since we did not have a rental car during our stay in Costa Rica, we ate all of our meals at the Four Seasons.  As expected, the food was fantastic, though quite pricey.  There are 5 restaurants affiliated with the hotel and another one at the Beach club, so you can get about 6 days of different food experiences.  However, you may want to plan your meal locations for each day at the beginning of the trip since not all of the restaurants are open each day.  Two things to note:  First, there is a "juice of the day" offered for breakfast each day that is fantastic!  I do not regret ordering it each day, however, you may find yourself surprised at how much they charge for one glass of this juice; it is as expensive as one beer.  Second, we highly recommend room service, especially for breakfast.  They offer a more expansive menu than the restaurant and they set up a beautiful table for you on your private balcony.  Also, some of the room service food options were cheaper than the same options in the restaurant.  Water:  Unlike some hotels, the 4S provides a couple of free bottles of water in the room which are constantly replenished.  There are also water dispensers throughout the hotel, so I recommend bringing a water bottle with you.  At dinner, you will notice that they ask you if you would like (expensive) bottled water with your meals (e.g. Evian and Fiji), it took us a few days to realize that you can also order plain, filtered water at no charge.
Additional things:  Definitely bring a waterproof camera, particularly for the kayaking trips and the adventure tours since you will get wet.  Also, it is helpful to bring some extra zip lock bags for wet bathing suits, camera, etc. on the adventure tours.  It was also helpful to have a small backpack for keeping stuff together while on the tour.  One thing to note that a few people were confused about is that a 10% service charge is automatically added to all food/drink purchases (the reason for this is described in a book in the hotel room).  We were told that this is for gratuity and for those of us who prefer to give a larger tip (~20%), you simply have to add on an additional 10% (not an additional 20%).
Catherine and Matthew
---