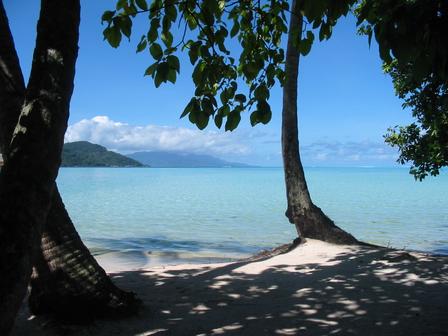 Itinerary
1 night Tahiti at the InterContinental Tahiti Resort
5 nights Taha'a at Le Taha'a Resort
4 nights Bora Bora at Bora Bora Nui Resort
We went to Tahiti, Tahaa, and Bora Bora for 11 days, plus 1 night in Los Angeles (Westin LAX) on the return trip. It was truly an amazing experience and one the first of many trips to come. I was in awe of the beauty of the islands and the smells in the breeze were enchanting. I cannot even really put into words the experience we had because it was so perfect. French Polynesia is true paradise and we cannot wait to return. I'm obsessed! Please contact me if you want some more information on any of my itineraries or visit the Tahiti page for tons of info on the islands that I've gathered up over time. It is truly worth every penny we spent and I personally feel this is one trip you should try not to do on too strict of a budget, although it is something everyone should try to do once in their lives, if they like the sun, the water, and relaxation. We were very fortunate to be able to splurge on this trip and we are extremely thankful we had this opportunity.

Flights: Our first flight, leaving out of Dulles International, was delayed for about 2.5 hours on Sunday morning. We thought "great way to start off the trip, huh?" but once the plane arrived, things were right on track. Both of our domestic flights were mostly full and upgrades were nowhere to be found. I slept on the way to Los Angeles and we arrived there just after lunchtime. Our next flight on Air Tahiti Nui was to leave at 4:20pm. We checked in with Air Tahiti Nui and did not need to upgrade since we had pre-paid for business class. VERY smart choice since our flight was full. On the way back, there were a few seats left in business class and first class only had one person in it. Our flights on Air Tahiti Nui took off and landed on time and I slept the entire way both times. I know they give you a blanket, pillow, eye cover, and ear plugs in all classes, but my seat almost fully reclined and that really helped me remain comfortable the entire flight. I missed our five-course meals both times, but I did manage to have some pastries both times and they were very tasty. Our flight timings were perfect because we arrived in Papeete around 10pm and went straight to the Beachcomber and went to bed. So, we got a full night of rest and were ready to go the next morning. The return flight was also around 10pm, so we got a full day of activity and everyone slept on the plane overnight. Our return domestic flight was not fun after flying Air Tahiti Nui, so we vowed to never fly coach again. Of course, most of my traveling is done through work, so I have to fly coach, unless I upgrade on my own dime. LOL Just a heads up for those who made the same mistake as us- when we got to LAX and checked-in with Air Tahiti, we forgot to ask about the premium class lounge. So, when we got to the entrance for the lounges, we asked the security guards and they lead us to the wrong lounge. So, we NEVER found the lounge. It ended up being with Qantas.
Intercontinental Tahiti: Although we were only at the Beachcomber for no more than 12 hours or so, we felt that this resort was the best choice in Papeete. I did not get to see any of the other hotels, but the grounds at the Beachcomber were pretty, everything was well taken care of, and they do offer a few overwater bungalows if you really want to stay in one, but your budget is tight, or if you really wanted to splurge on everything! We stayed in a lagoon view room and I thought our room was cute and decently appointed. We had a view of the pool mostly, but there was also construction going on just below our balcony. It appears that they were building another deck. Also, we ate both breakfast and lunch at the Beachcomber and the outdoor restaurant was pretty decent. The food seemed pretty good and you had a nice view of the pool. Another plus- I bought my pearls at the Beachcomber at the Robert Wan (Tahiti Perles) boutique. I got a beautiful turquoise loose pearl that I'm having set into a ring and I bought a bracelet that has pearls all the way around it. I love my bracelet! I also tried on the ring I had chosen before I got to Tahiti, but the smallest size they had would not fit the fingers I wanted to wear the ring on. I believe the smallest size they made is a size 5, so they have plenty of selection, it is just that my fingers are incredibly small.
Le Tahaa Island Resort and Spa: Our transfer flight from Tahiti to Raiatea landed just before sunset, so our 40 minute boat transfer to the resort allowed us to see the gorgeous sunset looking over toward Bora Bora. While on our transfer, we got to see part of the main island of Tahaa and we also passed the Paul Gauguin cruise ship, which looked pretty nice. Once we were there, check-in was a breeze and we ended up with beach suite #51. I was excited because I had requested #50-#57, but after viewing the location of all of the beach suites, I am convinced suite #51 was the BEST on the whole island. It was set back a decent way from the path, there were only 2 beach suites beyond ours (that happened to be empty for the majority of our stay), and we had an open view of the lagoon and the main island, while most of the others had a restricted view because of the overwater bungalows. It was absolute perfection. The bungalows are extremely well appointed, with a "sexy exotic luxury" feel about them. Our favorite part of our bungalow was the private plunge pool.  We also enjoyed being able to have direct access to the beach (not white, sandy beaches though- mostly broken up shells and coral, but walkable) and lagoon from our back deck and we often just went out and swam at our own leisure. Plus, the view was AMAZING! I was supposed to switch to an overwater bungalow after our third night, but decided we could not leave the beach suite. Since the resort was fairly empty, they gladly let us decide what we wanted to do. I had also heard that bugs and lizards were an issue in the beach suites, but I got bit once the entire time and saw two lizards for 2 seconds in the bungalow one night. The rest of the resort was just as beautiful. We spent a lot of time at the pool, just because of the location. It was right next to the coral gardens and the kayaks, as well as the pool restaurant, Le Plage. Our first night there, we decided to get room service because of our late arrival and we just enjoyed the beauty of our bungalow. The second day, we went to breakfast at the Vanilla Restaurant, we snorkeled just outside of our bungalow and in the coral gardens, and we attended the Polynesian show and buffet at Le Plage. The show wasn't anything spectacular, but it was interesting to see some of their culture. The next day, we enjoyed the pool (it is not a large pool, but it is nice) and we went kayaking in the coral gardens. We had room service for our breakfast and ordered one continental breakfast for the both of us. It truly was plenty of food and very delicious. For dinner, we went to the Vanilla Restaurant again. We chose not to eat at the gourmet restaurant or Chez Louise because of my picky eating habits (for those that are picky eaters, I do not eat any fruit, vegetables or seafood and I ate well while I was away). During the night on the third night, it stormed and it continued to rain off and on the next day, but we still were able to enjoy the pool and our private plunge pool. It gave us a much needed break from the strong sun, even though we still saw sun that day. On our 5th day, we went to the spa and both received the Monoi Rima Avae treatment, which is a reflexology massage. The spa is very open air and exotic. I went back later that day and got the Hohoa Patitifa facial, which is a local treatment consisting of hibiscus, coconut, honey, and fruit. The smell of the spa and the smells from the facial were amazing! In between my spa treatments, we rented jet skis for an hour and went around the back side of the main island. While jet skiing, we could smell these amazing scents of ylang-ylang and vanilla. The water was an incredible color and the air was so refreshing. I recommend taking the jet skis out to explore (although they are partially guided, our guide let us go at our own pace), but they are expensive. Our two jet skis for the hour were $335USD. On our last day there, we enjoyed room service for breakfast and caught our shuttle back to the airport in Raiatea. On the way back, dolphins swam along side of the boat. It was like a dream come true- our whole experience at Le Tahaa was surreal and those 5 nights were simply not enough for me. Overall, I enjoyed Le Tahaa the most, but I could see very active people getting bored with it after 5 nights. As far as the food is concerned, I LOVED the pancakes and the pastries, as well as the Coupe Pearl dessert at Le Plage, which is vanilla ice cream, chocolate syrup, and whipped cream. My travel partner enjoyed all of the fish, especially the mahi mahi and the tuna, as well as all of the fresh fruits. The service was good, although a tad slow, but I think we are so used to being in a hurry that it was not as slow as it seemed. Our only complaint was the language barrier. The staff, for the most part, did not know a lot of English, which is normal for around there. I took French for 7 years in school, and although it had been a good 5 years since I last spoke it, it did help me out a few times while trying to communicate. I wish I had brushed up on it before our trip, so I have vowed to take up French again so I'm almost fluent when I return. YES- I WILL RETURN IN A HEART BEAT! Next up…Bora Bora!
Bora Bora Nui Resort and Spa: (NOTE: The Bora Bora Nui has been renovated and rebranded as the Conrad Bora Bora Nui as of 2018) We arrived at the airport in Bora Bora after our 10 minute transfer flight (we almost ditched it to take the helicopter transfer instead) and we were greeted by an American! I thought "how nice! Someone who speaks English" but then I thought "Geez, is this going to be more like Hawaii than French Polynesia?" Thankfully, it was more like French Polynesia, although it is definitely more Americanized than the other resorts. The luxury of this resort definitely fits the American definition of luxury more than Tahaa did, and I personally preferred Tahaa over the Nui in the luxury category. The Nui is spectacular though- it has beautiful, well maintained grounds, two large infinity pools (that are connected), a nice restaurant, and very well appointed bungalows. I would have been even more in a trance with the Nui if we had visited there before Tahaa, but I am happy with the timeline I chose because of the wedding. Upon our return, I would go to Bora Bora first. Anyway, we stayed in overwater bungalow #109, which is the furthest out on the tier to your right when facing the ocean on the motu. It was a long walk, but well worth it since we had the best view at the resort. We had the deepest water for snorkeling (and had a ton of coral as well), the best sunset views, a good view of the main island of Tahaa, and a view of the top of Mt. Otemanu when we walked out our front door. I requested this bungalow and was very excited to hear that our request was fulfilled. During our 4 night stay, we remained extremely busy. On our first afternoon there following the transfer, we decided to enjoy the snorkeling right off of our bungalow. There were so many fish and they all followed you as you swam. On the second day, we did the shark and manta ray feeding with "Shark Boy". We met up with them on the main island and we went out into a coral garden close to the Nui. The sharks were a tad scary, but they placed a rope in the water and told you to remain behind it while they fed them. Unfortunately, our underwater pictures didn't turn out very well! Then we were allowed to snorkel among the other fish in the coral garden. We then moved to a new spot where we swam and fed the manta rays. They were so neat and so soft, but maybe a little too friendly. They kept rubbing up on everyone and some of the other participants got scared. After the ray feeding, they took us to the motu where the St. Regis is being built for some fresh fruit. Upon our return from the excursion, we chose to spend some time relaxing in the sun by the pool. On the third day, we awoke to a storm, which was somewhat welcomed because we needed a break from the sun. It quickly cleared up and we headed out to our 4×4 jeep safari in the afternoon. Since it was a little breezy and overcast, we could enjoy the safari minus the heat and the bugs. Also, because of the storm, there were only 3 of us in the back of the jeep. We went with Tupanau Tours and I think the guide did a good job of explaining both the landscape and the culture. He also took me shopping for pearls afterward! But, unfortunately, we did not have our credit cards on us. Overall, the tour was interesting, but probably would not do it again if we went back. That night, we decided to head over the Bloody Mary's for dinner. I know some people complained about it being too Americanized, but I thought it was fun and definitely worth the trip. The food was really good and the atmosphere was relaxed and light. I know it is definitely a tourist trap, but it was fun to be a nerdy tourist for a night! The next day, my travel partner headed to the pool and to the beach (which is fairly large compared to other resorts) and did some kayaking, while I enjoyed a day at the spa. I indulged myself with the "Transcendence" treatment, which offers a an aromatherapy foot bath, lavender body wash, a body scrub (Bali coffee or coconut- I did the coconut scrub) and a massage (Balinese, reflexology, warm stone and one other- I did the warm stone massage). Compared to the Manea Spa in Tahaa, the Mandara Spa had a more Balinese tone, rather than Polynesian, since most of the treatments and masseurs were from Bali! I thought the Mandara Spa was a little pricey for what they offered, but it still was worth it for the relaxation aspect. I did enjoy the more open-air set up of Tahaa more, though. Our last day was more centered around packing and relaxing, knowing that we had to head home. We had a late check out and our flight did not depart Bora Bora until 6pm, so we went to the pool in the morning and laid around in the afternoon.
As for food, the Nui has two main restaurants, Iritai in the main building, and the pool restaurant. Iritai has a contemporary Mediterranean cuisine and was fairly decent (remember, I'm a picky eater, so things can get tough) and the pool restaurant was more focused on light, American cuisine. We really enjoyed the pool restaurant for lunch, especially the french fries, the cheese burgers, and the cajun chicken. The service wasn't always perfect, but we were in no rush, so it was not a huge issue in our minds. We had breakfast included in our package, but we ordered room service everyday, so we had that extra charge. Plus, they accept tips at the Nui, unlike Tahaa, so we obviously felt obligated to tip since the service was decent. Upon our return to Bora Bora, we would love to stay at the Nui again, perhaps in Royal Suite 107 (!), but Hotel Bora Bora also intrigued me because of the intimacy the resort offers. Of course, I'd also want to visit the St. Regis and the Four Seasons when they open!
Overall, we had the most incredibly amazing time and had very few complaints or issues while we were there. The only mistake I made, although I mentioned above it was the right thing at the time, was that we didn't save the best for last and reverse our island order.
You might also like