I don't often get to see my family, so I thought that taking my mom on a vacation would make up for all of those birthday dinners, Christmases, and Thanksgivings I've skipped over the years. While I am based in Arizona, my mom lives on the East Coast, so we chose the Caribbean for our big mother-daughter adventure. More specifically, we chose St. Maarten/St. Martin to have a great mix of shopping, beaches, and gorgeous views.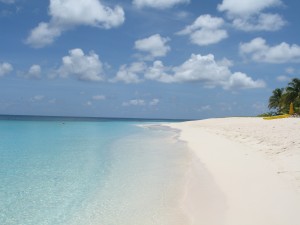 Photo Courtesy of Escapes by Janelle
For those of you who read my reviews often, you have probably figured out that I am a total American Airlines mile/Starwood point junkie! So, I got a deal for airfare using 30K miles/person on American and 10,000 points a night for 4 nights at the Westin Dawn Beach (remember Starwood people- 5th night free- they didn't have the 5th night available as you'll see below). The flights were fairly uneventful, except for my mom befriending two flight attendants who proceeded to get her a bit tipsy. American is usually good about being on time, as long as you avoid Dallas/Ft. Worth or Chicago-O'Hare in the winter. We connected in San Juan.
Since the Westin did not have our first night available, we decided to choose a more moderate hotel for our short stay. I chose the Sonesta Great Bay Beach Resort just outside of Philipsburg. The hotel was nothing fancy, just a basic place that happens to have a nice view of the cruise port and the beautiful bay and is within walking distance of the famous shopping district. It also has a casino, for those who like to gamble. While I would classify it as 3 stars, I would really only recommend this hotel for someone who was looking for an inexpensive getaway with a group of friends or for someone in my similar situation. The location really worked out because it was the half way point between the airport and the Westin.
Our stay at the Westin was very nice and very relaxing. Our room was on the 3rd floor with a view overlooking the pool, which was never very loud or crowded. The beach area was very nice as well, but be warned if you are against topless sunbathing (and be even further warned that Orient Beach, just on the other side of the border on the French side, is completely clothing optional!). The hotel has a casino, as well as 2 restaurants. I only ate at the one – Ocean. Ocean was very nice, with very good food, although a bit pricey, as any resort food tends to be. The menu wasn't very extensive, but I am also a very picky eater. I also dined at the pool restaurant, Liquid, but there was nothing worth noting, except that I felt they needed a more extensive menu there as well. They also offer a sushi bar, but it's totally not my thing.
We also dined outside of the hotel a few times. The first night, we went to Taloula Mango's in Philipsburg. It is located right along the boardwalk, with views of Great Bay. The food was good, the atmosphere was fun, and the pina coladas were out of this world! Speaking of entertainment, if you want something completely loud, fun, and interactive, you have to try Cherie's Cafe. It's back toward the airport, near the Maho Resort area, and it has all of the loud, cheesy entertainment you could ever ask for. It's funny and it's a good time. You can act like a goof, dance like one, and no one there will ever see you again! Also, although not glamorous, we ordered Pizza Hut and had it delivered one night.
The highlight of our trip, other than buying a few pieces of jewelry for cheap (side note- remember to shop around and negotiate on price), we took a day trip to Anguilla. WOW- what an island. If you are looking for something low-key, high class, and gorgeous white sand beaches, Anguilla is the place to stay. Anguilla is known for its high-end, expensive, luxury resorts, and now I know why. I will be returning! We took the ferry over from the French Side of St. Martin, and arrived in Anguilla about 30 minutes later. We had met a man on the boat who offered us a cab ride and he also took the time to show us around the island. He dropped us off at Shoal Bay East and it was like a picture out of a post card. We happened to be there on a day that very few people were on the beach, but the weather was perfect.
I couldn't have asked for a better trip and one that will not be forgotten any time soon. St. Maarten is a great destination for a girls –only trip, or a mother-daughter trip, while Anguilla would be the perfect destination for a honeymoon or anniversary. We had a blast and hope that the tradition will carry on into the future.
You might also like