Everyone has always told me how much they loved visiting Hawaii, especially Maui. I had heard there are a ton of things to do and to see, so in 2008, I decided to cave in and take a trip! The airfare was pretty inexpensive from LAX and I was able to receive a very nice deal from the Fairmont Resort in Wailea, so in May 2008, I packed my bags for Maui for 5 nights!
I chose to fly American Airlines, as it was inexpensive, and I was able to use my elite status to upgrade to first class on the overnight return flight. Well worth the extra money to get some sleep! It would have been nice to fly direct, but then I'd be bound to fly US Airways, which for me, leaves a bad taste (side note- if you want to know why, you'll read my Los Cabos review.) The only thing I don't like about flying American from LAX is that there is not a commuter flight direct from Phoenix, so we have to fly Southwest to get to LAX. So, there is no baggage service to automatically send my bag from Southwest to American. So, I had to pick up my bag at the Southwest baggage claim and then lug it to the American Terminal, which is quite a stroll from Southwest's terminal. Again, it is better than relying on US Airways. I guess I need to give US Airways another try…
When we arrived in Maui, we had pre-booked a shuttle ride to our hotel- the Fairmont Kea Lani. We wanted to not worry about a car, mostly because this was a trip that was meant for relaxation. We caved later in the trip, as you'll see below. The shuttle ride took about an hour, but we also had a few stops along the way. When we arrived at the Fairmont, it was later in the evening, so all of the tiki torches were lit along the path of the massive driveway. It was a gorgeous scene! The hotel is absolutely massive, as are most of the hotels along the beach in Wailea. The architecture, which reminds you of being in Greece or even Morocco, makes the hotel stand out from the other hotels in the area. While the hotel is probably in need of a small facelift, the rooms were still very well appointed and very spacious. Our room had a commanding view overlooking the massive grounds leading toward the ocean (side note- all of the rooms at the Fairmont are considered suites. For an absolutely amazing experience, book a 2 or 3-bedroom villa just steps from Polo Beach. They are epitome of luxury, but very expensive.) As I said above, the grounds of the resort are massive. They have several pools, one of which is an adults-only pool, and another one has a very fun waterslide! At the adult pool, they offer pool-side massages and large cabanas for rent. We spent a lot of time at the adult pool, just soaking up the sun. Oddly enough, we never spent any time on the beach, which probably would have been nice (side note- if you are looking to snorkel, keep in mind that many of the beaches in the Hawaiian Islands are not reef protected, so snorkeling is a little tricky with the waves crashing in. However, there are some good spots, such as Molokini Crater.)
As I mentioned above, we really had no intention of filling our days with activities, but we ended up taking in a lot of sights. We rented a compact car from Avis for two days and managed to see quite a bit during our stay! We first took in a helicopter tour with Air Maui, which was a bit expensive, but absolutely incredible. We were able to see parts of the island we'd never be able to see by land, including the Haleakala Crater and lush valleys in the West Maui mountains. Following the helicopter tour, we drove the famous Road to Hana. I am not one for being in the car for very long, so it was hard on me, but I have to say the best part of the drive was visiting some of the smaller beaches in Hana. My favorite was the black sand beach at Waianapanapa State Park. The following day, we toured the West Coast, including Lahaina, Ka'anapali and Kapalua. Personally, I thought Lahaina and Ka'napali were very crowded and touristy, but it really is the perfect place for families and those seeking a great place to stay at a slightly better value. Kapalua and Wailea are targeted more toward couples who seek luxury (side note- if you want luxury, more seclusion, yet have kids, check out the Grand Wailea!)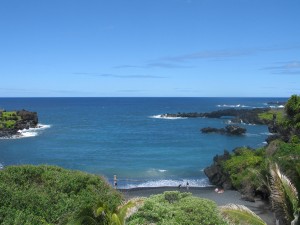 With all of our driving around, we didn't venture very far to enjoy a nice meal. Our favorite meal was at DUO, which is a steakhouse located at the Four Seasons Resort in Wailea. Just being at the resort was a treat, as it is breathtakingly beautiful, but the food was absolutely outstanding. Be prepared for a big bill, though! We also ate at Nick's Fish Market at the Fairmont, as well as Cheeseburger in Paradise (twice- how cliché!) and Matteo's Pizzeria, just across from the Shops at Wailea. Nick's was very good, but I think it would have been a better experience had we liked seafood. The seafood dishes looked out of this world. We really wanted to eat at Café Ciao, which is also at the Fairmont, but they had actually closed it just before our arrival. It was in the process of becoming Ko, a "plantation-inspired" dining experience.
We had a very nice stay in Maui, and if we choose to return, we'll probably end up in Wailea again. Maui is much larger than it seems, and it is also more touristy than I would have liked. However, it has every type of activity for every member of the family, so it's a great family destination. I also recommend Wailea, Kapalua, or even Hotel Hana for honeymooners, as it has a very romantic aura and is a bit more peaceful and luxurious.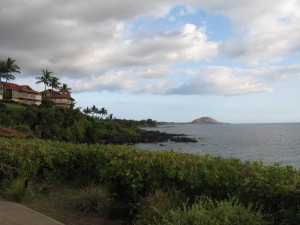 You might also like