Since visiting the Seychelles was on my bucket list, we decided the two days of travel from Arizona to the Indian Ocean for vacation was worth the haul. Even though the weather was questionable due to an odd streak of rain during the dry season in the Seychelles, we thought the trip was totally worth the wait. We flew four different airlines and stayed at four different hotels- not something one normally does on a vacation that is meant for relaxation, but it had to be done to get the itinerary we wanted!

British Airways Club World:
We flew British Airways from Phoenix to London, London to Johannesburg, Doha to London, and then back to Phoenix again. Quite the routing, huh? Club World, and the associated taxes (which cost as much as two coach tickets to London!) is definitely the way to travel on these long haul flights. Club World is the equivalent of business class, so you get better seats and lounge access, which made our long layovers more palatable. The sleeper seats recline into a flat position and I was able to sleep soundly on all of our flights. As I mentioned above, we had lounge access and we took full advantage of that at all of our stops except Johannesburg. In Terminal 5 at London Heathrow, we also used the shower suites to freshen up.
South African Airways:
We had a very short layover in Johannesburg before catching our flight to Mauritius. We flew economy on this leg of the flight. We searched high and low for a Star Alliance Gold check in area, but ended up standing in line for a normal check in. One thing of note for your flights in and out of Johannesburg- either shrink wrap your bags or have TSA locks of them to prevent pilfering. Otherwise, our four hour flight wasn't too terrible, except for the wretched smelling fish they served for our meal.
The Grand Mauritian and Mauritius (Now The Westin Turtle Bay Resort):
Mauritius is one of the most densly populated places in the world and it showed as we drove the hour to the resort, which is located on the North side of the island. The North side is supposed to be sunnier and drier, but I found that during their winter (North America's summer), it tends to be equally sunny on every coast. The water is also not as colorful as what you will find on the East Coast near the Four Seasons and Ile aux Cerfs. The hotel itself was gorgeous, the staff very attentive, and the Beach Club plan allowed us to have a wonderful view from our room and a variety of complimentary amenities. Those amenities included free breakfast, free non-alcoholic beverages all day from Bar 68, free alcoholic drinks during Happy Hour, and free internet.  We went to Happy Hour every night and utilized room service for a few of our dinners since their menu was extensive. The food was good, though not a foodie's paradise, unless you really enjoy authentic Indian food. The hotel definitely offers non-Indian options, including a theme buffet each night and an Italian restaurant, but the Indian population of Mauritius definitely made their mark on the cuisine.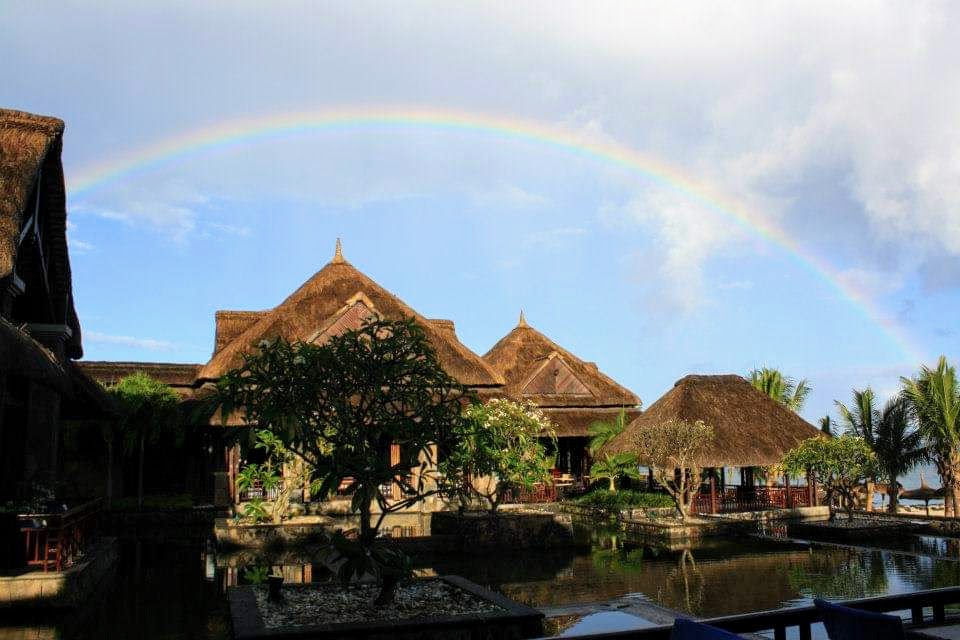 During our stay, we visited Casela Park to do a walk with the lions and we also did a private speed boat tour of the other side of the island. Mauritius definitely offers a variety of activities, but the drive to most of them was a bit too much. It took us an hour just to get to the speedboat. While I really enjoyed the private tour, the walk with the lions was the highlight of the stay. Casela is a zoo, showing a variety of indigenous birds and animals, but they also have a zip line and the amazing lion area. I admittedly was scared to death to be anywhere near the lions, but the walk is very well controlled.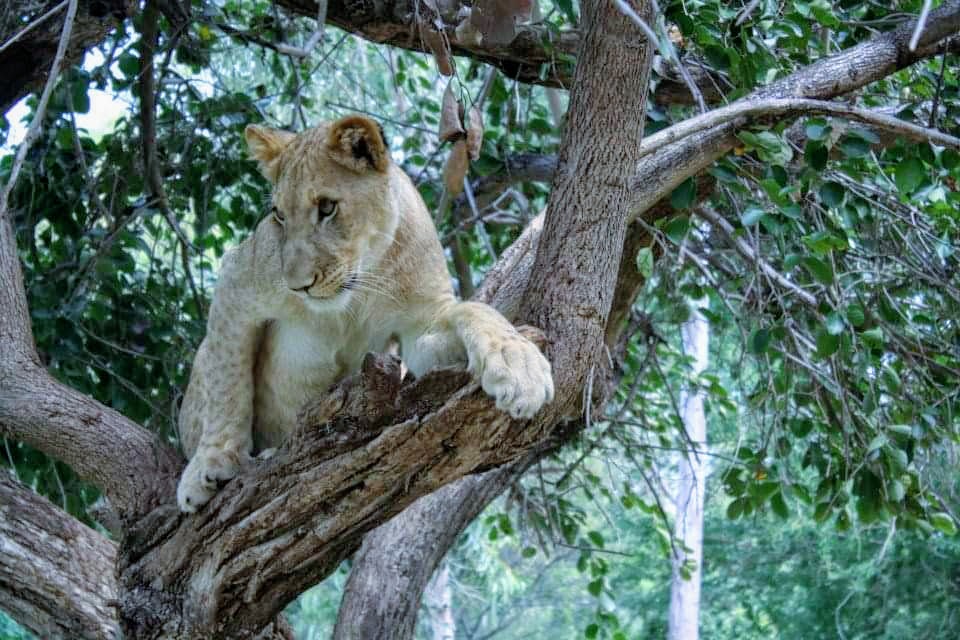 Air Seychelles:
After the smelly food on the South African Airways flight, I was prepared for the worst. However, Air Seychelles was a nice treat! We flew economy from Mauritius to the Seychelles, which is a short 2.5 hour flight. The boarding process was a scrum, but at least we had assigned seats. We really did not have any issues with this airline and, thankfully, the meal of non-odorous chicken was good!
Le Meridien Barbarons (NOTE: no longer available):
We arrived fairly late into the Seychelles and knew this was a short stay, so we chose something quick and simple. This hotel is the least expensive of the two Le Meridiens on Mahe Island. I chose this for our quick one night stay for that reason. We got to the hotel at 9pm and had to leave at 9am for the airport again. I used a combination of points and cash, which ended up being more confusing for the staff than I would have liked. We stayed in a suite (an upgrade at check-in), but the hotel itself is a little dated. It has a very retro feel and the grounds were not quite as lush as I would have expected. I can't judge too much, though, since I only really saw the hotel for a total of an hour. Once thing of note is that the hotel triple charged me on my credit card! I am sure it was just an issue of thinking the card didn't swipe, but definitely watch the charges from international travel! I immediately called American Express upon my return and they straightened it out.
Air Seychelles to Denis Island:
We flew a nice sized Airbus from Mauritius to the Seychelles, but we weren't so lucky heading to Denis Private Island! Thankfully, I don't mind small airplanes at all. The flight was approximately 30 minutes and, while a bit bumpy in both directions, it was worth getting tossed around to get to the resort.
Denis Private Island:
WOW. What a fantastic resort!!! I didn't see the need to spend $6K/night on Fregate Island or North Island after staying here. We stayed in a Belle Etoile suite and the room was spectacular. We had a half indoor/outdoor bathroom, a massage table, and our own sala facing the beach. We had our own stretch of beach to swim from, but oddly enough, dry season in the Seychelles has rougher water and our stretch of beach had been eroded by the tsunami several years ago, so we needed to swim elsewhere. We didn't mind, though- our suite was more like a villa in my mind! The food was outstanding!  We sent them our preferences for meals ahead of time and they noted them to us immediately. My fiance has a mango allergy, so each time we went to the buffet, they pointed out which items had mango. Most, not all, of the meals come from a buffet, but they have made to order foods within it and everything was of top quality. They also grow most of the items used on the property! I really enjoyed the pancakes and french toast for breakfast and the stir fry for lunch. Each night for dinner, there was a theme, but my favorite was the romantic beach dinner. Each couple/group staying at the resort has a night that they are privately served dinner on the beach. It's a part of the rate and it's amazing just sitting there, listening to the waves and enjoying your feet in the sand. The resort rates include all meals but not drinks. The drinks were VERY expensive- about $15-$20 for a cocktail. We were hesitant to drink very much because of that, however, we enjoyed a cocktail every evening before dinner in the gorgeous open air lobby. We also requested soda for our mini bar in the room. We had some duty free liquor from Mauritius and we made drinks throughout the day. What is also nice about the mini bar is that they will credit you for any unopened drinks in the fridge.
On our last morning, we were offered a tour of the entire island. It's not a very big island, but half is dedicated to the resort and the other half is used to support the resort (staff, gardens, etc.) and to support bird conservation. There are many unique and rare birds to be seen. Be sure to take pictures! We did not explore very much during our stay, and did not do much in the way of activities, but after seeing the entire island, we really wish we had taken a walk to the reef. Since the water was a bit rough, we didn't do much swimming, but the water on the reef side is much calmer. It's just that it's quite a ways from the resort part of the island and you'd never really know it was there. At any rate, I'm really hoping we can make it back to Denis some day. We really enjoyed our time there and felt very well taken care of by the staff.
Le Meridien Fisherman's Cove:
Because Denis Island only runs one flight per day, we had to stay our last night back on Mahe. This Le Meridien is much nicer than Barbarons, but it was rainy, so we
didn't get to do much. We ordered room service and they brought us a bottle of champagne! The views from here are also fantastic.
Qatar Airways:
We had a flight change on Air Seychelles way back in time, so we ended up having to fly to Doha to get home instead of back to Johannesburg. Qatar is supposed to the best airline in the world, but what I found is that while the attendants were helpful, the airline refused to allow us to pay for an upgrade even though business class was empty. They also allowed the family sitting right behind us to let their kids scream the entire time. These children weren't babies, which I understand you cannot control. These kids knew what they were doing. The kids kicked the back of my fiance's seat for most of the 4.5 hour flight and the dad laid in his seat in a manner that did not allow me to recline my seat, even a little. The seats also recline fairly far back, but they don't give you any extra leg room to compensate for the extra recline. So, when the girl in front of me reclined, I had to sit slumped in my chair to see the TV screen. Needless to say, I was less than impressed with the flight. However, upon arrival, my feelings changed. The Qatar Airways staff took care of us the second we landed, allowing us to skip going through customs just to check in with British Airways.  They gathered our baggage from customs and personally re-checked it with British Airways. This service was VERY helpful and saved us the $25 per person fee for the visas. I plan to fly Qatar again in the next few years when I can find the time to visit the Maldives. However, you will not be seeing me in economy class!
My advice to anyone planning this trip is that if you can utilize miles and/or hotel points, it will ease the pains of the trip. This trip would have cost us upwards of $50,000 if I had not used a combination of miles and hotel points to cover most our trip.  Since I travel frequently and have hotel elite status, we got major upgrades on each island. While Denis Island was certainly expensive in its own right, it was really the only major portion of our trip that we had to pay for out of pocket (other than the ridiculous airline taxes- around $1800/person!) Thankfully, it, and the trip, was worth every penny.
You might also like