Just one quick glance at my blog and you have probably figured out that I was recently married! We had decided early on that we wanted a destination wedding and ended up choosing Australia. It's obviously quite a large continent, so to be more specific, we decided to get married and honeymoon in the State of Queensland, specifically, near the Great Barrier Reef.  We had some time restrictions due to work, among other things, which limited our time, but in total, we were on the ground there for 14 nights. It sounds like a lot of time for just one area, but we didn't even get to scratch the surface of the Reef!
We flew Air New Zealand to take advatange of their Sky Couch offering. It has 3 seats that have leg rests that come up to form a couch/bed. It's about $1000+ more than two typical coach seats (price depends on the airfare rate). Air New Zealand only offers the couches on long haul flights, so we had the couch for our flights between Los Angeles and Auckland. I did sleep most of the time, but it is super cramped and small for two adults. I thought about upgrading to premium economy, but the seats don't really recline. They are space seats which have hard backs and are designed for either flying solo or flying with one companion. I did inquire, but a  business class upgrade was around $2K/person. To be honest, I wish I had taken it! Not so much for my comfort, but for my husband and to have avoided a very loud cabin and people to seem to not know how to behave on red eye flights. We also had lounge access because I am an elite flyer within the Star Alliance network. Both the lounge in Los Angeles and in Auckland had ample food and beverage at no cost and was far more relaxing than sitting at the gate.
We flew USAirways to get to and from Los Angeles. As I always say in my reviews, I won't go into detail about how I feel about USAir. It's not worth the energy. The only reason I fly them is because Phoenix is a hub and Southwest does not have a first class cabin.
Within Australia, we flew QantasLink. They are a subsidiary of Qantas and cover regional flights. I cannot say enough wonderful things about them. Excellent customer service and extremely friendly staff. At the Brisbane Airport, the Qantas check in was so incredibly efficient that I didn't know what to do with myself. American airports need to take note. I would not hesitate to fly with them again.
Sofitel Central Brisbane: 1 night. I booked a deluxe room, but was upgraded to a Club Room upon check in! The room boasted gorgeous views of downtown Brisbane and had an awesome location within the city. The main train station is just under the hotel, so anywhere you want to go, you only have to walk a few steps to get there. The Brisbane Airport offers an AirTrain service which also stops there, so it was so incredibly easy to get to and from the airport (and in only 20 minutes!) One oddity: the upgrade to the club room did not include club access. It just was a view upgrade. I didn't know there was such a thing and I book travel for a living! So, that was slightly disappointing, as their club looked amazing, but not the end of the world.
Heron Island: 3 nights. In order to get to Wilson Island, which is where we held our wedding, you need to transit on Heron Island. So, we decided to actually stay there before heading over to Wilson. Upon arrival into Gladstone, we were met at the airport by our transfer to the heliport. You can choose to take a boat transfer (2 hours) or a helicopter (30 minutes). The helicopter is siginificantly more expensive, but definitely the way to go! We had amazing views during the trip.
Heron is a gorgeous island for nature- Crystal blue water, soft white sand, lush grounds, and strong diversity in wildlife. Take advantage of the free walks and discussions given by the naturalists. Asha, one of the naturalists, did an awesome job with the island walk, research station tour, bird watching, and star gazing. The diving here is supposed to be phenomenal, but we're just snorkelers! During August (or anytime within their winter), definitely rent or bring a longsuit. The water is only around 68 degrees. It gets quite chilly at night too- bring long pants and sweaters. During the day, the sun warmed up the air to the perfect sunbathing temperature. We booked the beachside suite and loved having direct beach access. Heron is not by any means a luxury resort, though. Very minimalist and the food was not so great (bland buffet with few choices.) I knew this going in, but wanted a place to unwind before the wedding that didn't cost a fortune. Heron does offer suites that are a step up in luxury, but they aren't on the beach and are not very private. I would probably not stay at Heron again, even if going back to Wilson Island, but I would probably consider staying in a suite depending on the time of year. All of the other room categories do not have air conditioning. Heron never really gets much warmer than 80-85 degrees during the day, though.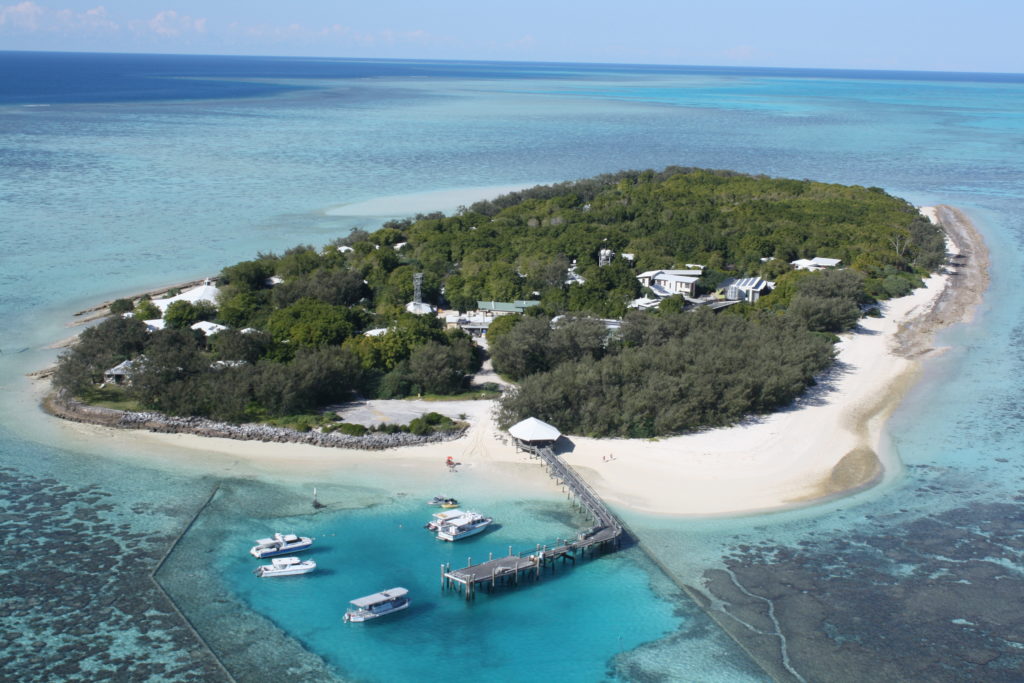 Wilson Island: 4 nights. Wilson is a VERY tiny island accessible only by boat from Heron. It's a small resort with luxury tents (aka glamping)- only 6! It's all inclusive, but it kind of has to be since it's so remote. The resort at most only had 3 other couples besides ourselves and that was only for 2 nights. We stayed in Isolation, which is the closest tent to the beach and furthest from the main longhouse and washroom. Perfect for those who want to be removed and don't mind being so far from the bathroom. It was okay, but I wouldn't have minded so much if it wasn't so chilly at night! It's hard to get up at 2am and have it be around 50 degrees! Taking all things into consideration, I would stay in the Rapture tent upon return. The resort dining is communal, but we loved it. For our actual wedding night, they set up a private dinner in a community tent. It was breathtaking! The food was out of this world the entire stay. There are only two gas grills on the island and typically a set menu for each meal, but I am quite picky, and the chef went above and beyond to meet my dietary needs. I did not go hungry at all! Also, of note- there are only two staff on the island and they are AWESOME!!! The rooms, bathrooms, showers were always clean and the staff was always bending over backwards for you. Wilson is meant to be a total escape from the hustle and bustle of daily life, so do not expect your phones to work, TVs, internet, or much in the way of activities. Just exploring the island and snorkeling are enough to keep you busy, yet totally relaxed. I really cannot complain about anything on Wilson except that maybe it was a touch cold at night. This is strictly a time of year thing and when sleeping in a tent with no heater, you need to just be prepared. Oh, and don't go here if you don't like wildlife. The island is a magnet for birds and they are LOUD at night. The resort gives ear plugs, which definitely help. However, if you don't like being surrounded by birds, or don't want to see them swarm the island during sunset cocktails, then this is not the place for you.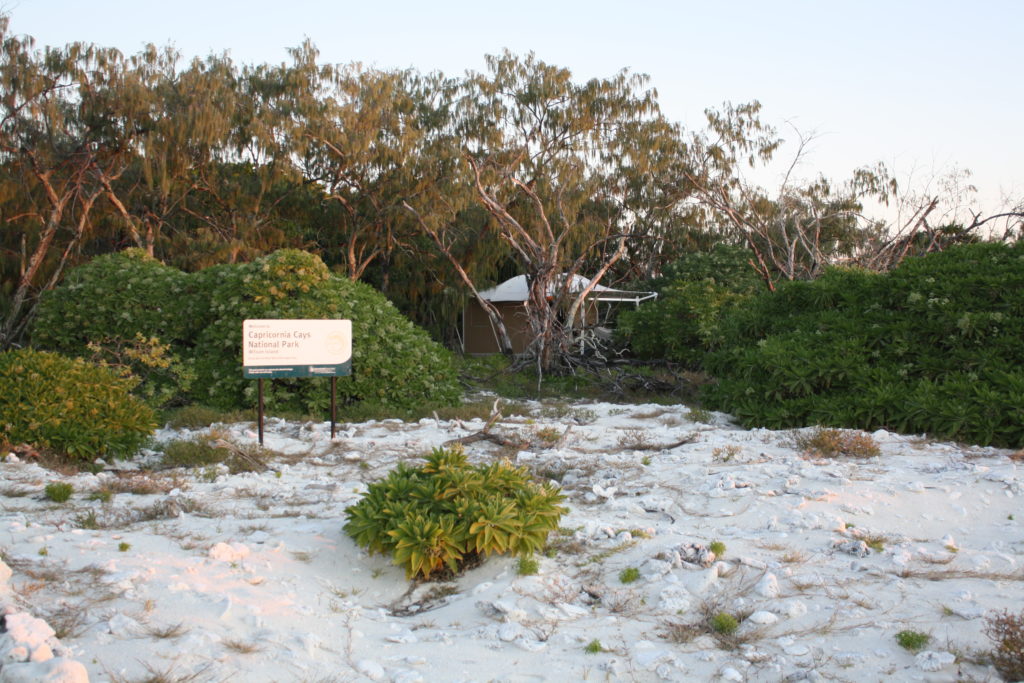 As a side note- The wedding on the island was just a dream come true. It is not for a bridezilla, as the weather and the seas can dictate when the photographer and celebrant may arrive. Our ceremony was set for 2pm, but I think we actually got married sometime after 3pm. I was totally 100% okay with that and the day itself was so stress free. Everything you need is included in the wedding package- cake, flowers (fake, since it's a national park), the celebrant, and dinner- was perfect. Our photographer was also phenomenal. The resort provided me with a list of photographers in the Gladstone area and I made a very wise choice!
Novotel Brisbane: 1 night. So, the boat that transfers people from Wilson Island to Heron Island broke down a day before we were due to leave. The part had to come from the mainland, so we were literally leaving Wilson Island at the last possible second. We missed our boat transfer back to Gladstone, but the resort company upgraded us to a helicopter. Unfortunately, we got back to Gladstone and had missed our flight to Brisbane (which was to connect to Cairns) by 20 minutes. No worries, though- the Wilson team put us up at the Novotel Brisbane, which is just 5 minutes from the airport. The team also arranged to have our flights changed, at no cost, and we got into Cairns in plenty of time for our next flight the following day. We were to have spent the night at the Hilton Cairns, so I just called and canceled that with no issues. The Novotel is a new, modern, hotel that seemingly caters to the business crowd. Only nit- the shuttle to the hotel was not free ($5AUD/person each way), but we are to be reiumbursed for the taxi!
Lizard Island: 4 nights. WOW! What a fantastic place. It is true paradise and luxury. It requires an hour flight from Cairns on a very small plane, which is somewhat expensive, but the views are awesome. We booked a Sunset Point Villa, which overlooks Sunset Beach and, of course, the sunset. We stayed in the furthest villa on the block. Each villa is actually one building that houses two rooms, but noise is never an issue. The villas are simple, but well appointed and spacious. Lizard Island includes all meals, most drinks, beach picnics and the minibar in the room. This all makes sense given the very steep price tag. When not doing a beach picnic or dinner, meals are served in Osprey's, which is open air looking out toward the beach. The food was outstanding and the chef went out of his way to make sure my needs were met. He met with us to ensure it. The staff was like family (same with Wilson Island, too!) and they knew us by name the second we stepped foot onto the island. While on Lizard, we did a hike with the naturalist to Cook's Lookout, which is about 1200 ft up. The views were unreal. It was an open activity, but hardly anyone does it, so we had the naturalist all to ourselves. We also did a half day snorkel excursion in addition to the fabulous beach snorkeling. A little pricey, but it is the Great Barrier Reef!  We did enjoy a massage at the spa, too. All of it was well worth it, in my opinion. Everything was just so wonderful that I can't even describe it, other than saying we'll be back next year!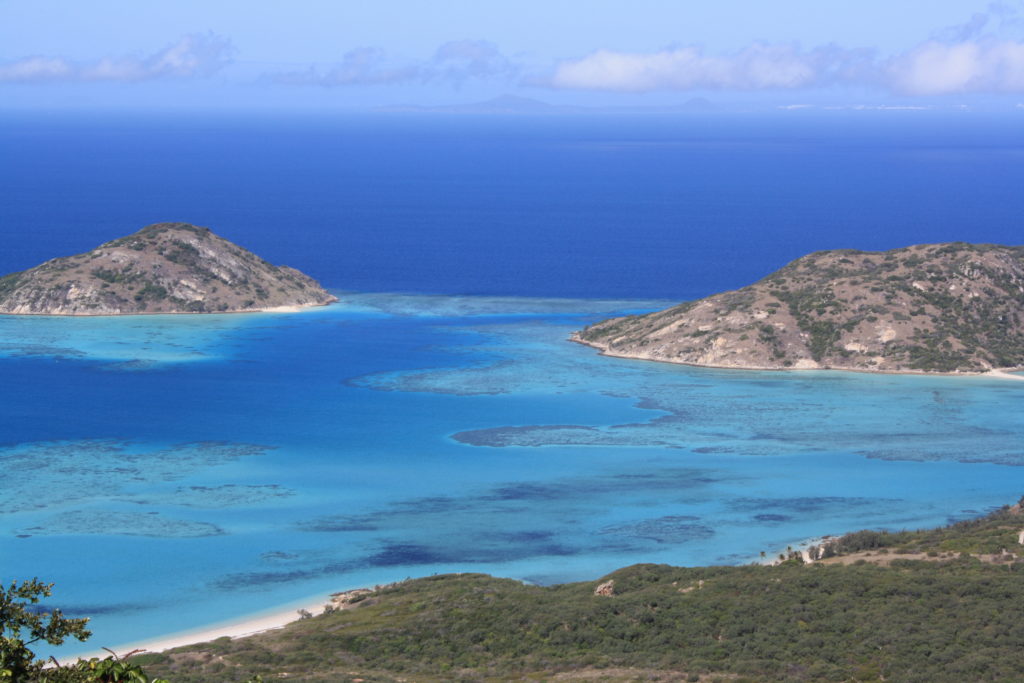 Hilton Cairns: 1 night. We needed a night in Cairns because of flight times. The Hilton has a nice location in the heart of everything, but the town is far from low key. It is kind of touristy and loud. It's definitely okay with a one night stay, though. The hotel upgraded us to a spa room upon check in, which I am not quite sure what that means, other than we had some great views again. I'm sure if we ever travel back to Lizard Island (and, we will!) that we'll end up at this hotel again. We may even venture up to Port Douglas, which is just north of Cairns, to spend time at the Daintree Rainforest.
You might also like