It's #TravelTuesday/ #TahitiTuesday again! Today, we're heading to Tahiti's most iconic island- Bora Bora! Bora Bora is truly a bucket list destination, with bright, colorful lagoons and the most luxurious overwater bungalows in the South Pacific. There are 10 resorts to choose from on the island and each one offers a unique experience. However, one of our personal favorites is Sofitel Bora Bora Private Island.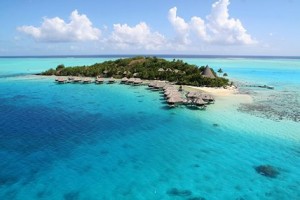 Photo Courtesy of Sofitel Resorts
While the Sofitel is not as large and opulent as the St. Regis or Four Seasons, it has a few unique characteristics that make it a "must-visit" on your romantic Bora Bora escape. With only 31 bungalows, the Sofitel is a boutique property with European flair. It's the smallest and most intimate luxury resort on the island and is a haven for those seeking privacy and seclusion. Set out on its own private motu, away from the majority of the resorts, the Sofitel is a hidden gem with 360 degree panoramic views of Bora Bora's famous lagoon. The resort also has a stunning view of the main island and Mt. Otemanu.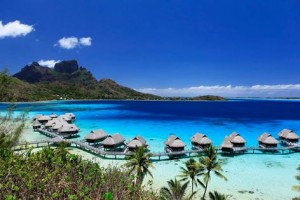 Photo Courtesy of Sofitel Resorts
Overwater bungalows seem like the obvious choice when staying in Bora Bora, but for a truly unique experience, the Sofitel offers island lodges. These lodges are set up on the cliffs with breathtaking views of the lagoon below. If you want an even more dramatic view, visit the hilltop deck area. The Sofitel is the only resort with a hilltop deck where you can hold a wedding, enjoy champagne at sunset, or just sit and take it all in.
Another unique offering that can only be experienced at the Sofitel is their "Romantic Soiree." Your soiree starts with champagne at sunset followed by dinner on the resort's stunning private beach. During dinner, you will be entertained by a special Polynesian dance show.
Photo Courtesy of Sofitel Resorts
Of course, while in Bora Bora, you don't want to just stare out at the lagoon. You want to enjoy it! The Sofitel is home to the best coral garden on the island. Many of Bora Bora's resorts do not have their own coral garden, so this makes the Sofitel a fantastic choice for those who want prime snorkeling just a few steps from their room. If you want to enjoy the lagoon off property, the Sofitel can also arrange a wide variety of water activities with Moana Adventure Tours.
Bora Bora is reached via interisland flight on Air Tahiti  followed by a 20 minute ride on the resort's private boat shuttle. Sofitel Private Island also features on demand boat shuttle transfers to the main island of Bora Bora. We highly recommend a stay at Sofitel Bora Bora Private Island if you are looking for an intimate boutique resort with personalized service. A stay at the Sofitel pairs well with a stay on any island, but is an excellent choice when also staying at the Sofitel Ia Ora in Moorea. We recommend at least 3 nights on any one island, but Bora Bora has a lot to offer and can easily be enjoyed for stays up to a week! For additional information on the resort, please feel free to check out my most recent trip review.
Please contact me with any additional questions or to book your Bora Bora Escape!!!
#IslandsofTahiti #SofitelBoraBora #BoraBora #Tahiti #southpacificislandescapes
You might also like