On this #TravelTuesday/ #TahitiTuesday, we're heading to one of Tahiti's most popular islands- Moorea! Moorea is one of the most active and lush islands in Tahiti, with the exception of the island of Tahiti itself! Moorea has the gorgeous lush mountains of Tahiti, minus the traffic and bustle of Papeete, and the crystal blue lagoons of Bora Bora, minus the added price premiums of being in Bora Bora. There are a few resorts to choose from on the island and each one offers a unique experience. However, one of our personal favorites is Sofitel Moorea Ia Ora Beach Resort .
Photo Courtesy of Sofitel Resorts
One of the best features of the Sofitel Ia Ora is the beach. The resort is set on a mile long stretch of white sandy beach that is certainly the best beach in Moorea, and probably one of the best in all of Tahiti. The lagoon just off of the beach is a gorgeous crystal blue and is protected from boat traffic passing by the resort. It's the perfect place to lounge on a raft or snorkel. Looking out across the lagoon, you will see a gorgeous scene- the island of Tahiti in the distance.
Photo Courtesy of Sofitel Resorts
The Sofitel Ira Ora offers several categories of bungalows, including garden, beach, lagoon view, overwater, or their 2 bedroom villa.  While having an overwater bungalow is a special treat (and happens to be less expensive than those in Bora Bora), having a beach bungalow at the Sofitel allows you direct access to their amazing beach, putting you just steps away from the calm, clear lagoon. The décor of the bungalows is the same throughout the property- a blend of Polynesian craftsmanship with European chic.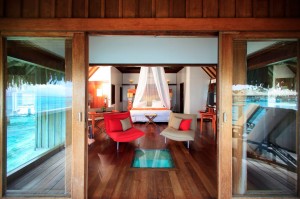 Photo Courtesy of Sofitel Resorts
The Sofitel offers a wide range of activity options both on and off property. While on the property, enjoy the resort's infinity edge pool, kayak around the calm waters, or indulge in a Polynesian-inspired spa treatment. Off-property, group and private tours can be arranged to experience all Moorea has to offer- which is a lot! Moorea has many land-based and water-based activities to choose from, including jet skiing, ATV tours, Lagoonarium Tours, or even enjoy a visit to the local juice factory! We advise doing a few different land based activities, as the Moorea offers the most land-based activities out of any island outside of the main island of Tahiti. Plus, the landscape is just spectacular!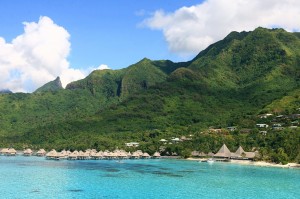 Photo Courtesy of Sofitel Resorts
Moorea is reached via interisland flight on Air Tahiti  or by a 30 minute high speed ferry ride from Papeete. Upon arrival, land transfers to the Sofitel Ira Ora can be arranged by your travel agent from either the airport or the ferry docks. We highly recommend a stay at Sofitel Moorea Ia Ora Beach Resort if you are looking for a gorgeous, expansive beach, a mid-size resort with the feel of a boutique property, or a resort that blends the Polynesian culture with European service and flair. A stay at the Sofitel pairs well with a stay on any island, but is an excellent choice when also staying at the Sofitel Bora Bora Private Island Resort in Bora Bora. We recommend at least 3 nights on any one island, but Moorea has a lot to offer and can easily be enjoyed for stays up to a week! For additional information on the resort, please feel free to check out my most recent trip review.
Please contact me with any additional questions or to book your Moorea Escape!!!
#IslandsofTahiti #SofitelIaOra #SofitelMoorea #Moorea #Tahiti #southpacificislandescapes
You might also like