We're back after taking our very own escape!
We haven't seen to the Tikehau Pearl Beach Resort since April 2006, but it is such a special place that we just had to include it on our favorite resorts list! So, on this #TahitiTuesday / #TravelTuesday, we'll be featuring the remote and romantic Tikehau Pearl Beach!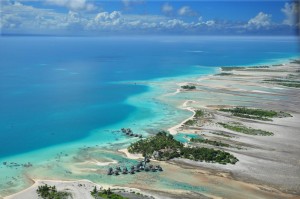 Photo Courtesy of SPM Hotels
Tikehau is part of the Tuamotu Atolls, a group of islands that are located about 240 miles northeast of the main island of Tahiti and the more popular Society Island chain. As I mentioned, these islands are atolls- a ring of flat islands and islets with a large open lagoon in the middle. The islands and islets are dotted with coconut palms and smaller tropical flora rather than being lush with greenery like the Society Islands. Tikehau has only 400 residents, leaving most of the islets uninhabited. With all of the uninhabited space, Tikehau is perfect for nature lovers, as the atoll is a haven for bird colonies. Along the beaches, you'll notice sand that has a pink hue, making it one of the few destinations in the world that are known for its pink sands. Below the lagoon, Tikehau is known for its abundance of fish, which makes it an excellent diving destination. Jacques Cousteau's research team once noted that Tikehau has the greatest abundance of fish out of all of the Tuamotu atolls.
The Tikehau Pearl Beach is one of only two resorts on the atoll, and since the islets are so small, the Tikehau Pearl is the only resort on its islet. It's also a very small resort, with only 12 beach bungalows, 16 overwater bungalows, 8 overwater suites, and 1 beach villa. Given its location and size, the Tikehau Pearl is the perfect place to escape from reality. The Tikehau Pearl is very laid back  compared to the larger resorts on Moorea and Bora Bora, but it offers guests the level of casual "barefoot" elegance that one would expect at a high end resort. You certainly won't be "roughing it" on this escape!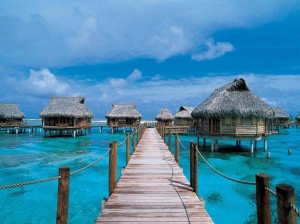 Photo Courtesy of SPM Hotels
When we stayed at the Tikehau Pearl in 2006, the overwater suites were a brand new room category. They are larger and more luxurious than standard and premium overwater bungalows and also have better access to the lagoon below. The lagoon also happens to be deeper (though not deep by overwater bungalow standards) by the overwater suites. However, the area around the overwater suites can be a bit windy during the shoulder seasons. Based on our stay and exploring the resort, the Tikehau Pearl is an excellent place to choose a beach bungalow. The beach bungalows are located along a private strip of sand and are just steps from the lagoon.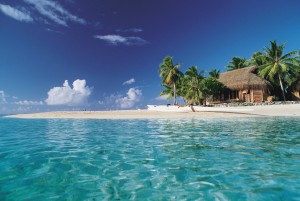 Photo Courtesy of SPM Hotels
We'll be honest and admit there isn't much to do on Tikehau. However, the resort offers on on-site dive shop, the Manea Spa, kayaks, jet skis, excursions to Bird Island, and bicycle rentals. When using the bicycles, you will be dropped off at the main village to explore on your own. Bring plenty of water for your journey and don't worry- it's impossible to get lost!
Tikehau is reached via interisland flight on Air Tahiti from either Tahiti, Bora Bora, or Rangiroa. If traveling to Tikehau from other islands, you must stop at one of the aforementioned islands first. Upon arrival, boat transfers to the Tikehau Pearl can be arranged by your travel agent from the airport. We highly recommend a stay at the Tikehau Pearl Resort if you are looking for a remote, quiet, secluded property where you want to disconnect or reconnect with a special someone. It's also an excellent choice for divers. A stay at the Tikehau Pearl pairs well with stays on Moorea and/or Bora Bora for those who want a blend of relaxation and activity. The Tikehau Pearl also pairs well with the Kia Ora in Rangiroa. The "dual atoll" combination is perfect for divers or those who just want complete solitude . While we may be able to stay on the atolls for weeks on end, we recommend no more than 3-4 nights on the atolls, especially for those who require a wide choice of activities. For additional information on the resort, please feel free to check out our Tikehau trip review (keeping in mind it's from 2006!)
Please contact me with any additional questions or to book your Tikehau Escape!!!
#IslandsofTahiti #TikehauPearl  #Tikehau #Tahiti #luxeislandescapes
You might also like