Our last stop in our  #TravelTuesday/ #TahitiTuesday tour is the Hotel Kia Ora Resort/Le Sauvage. Hotel Kia Ora and Le Sauvage are two separate properties with different locations on the atoll, but are managed by the same company. In their own ways, both offer a glimpse into the beauty of Rangiroa.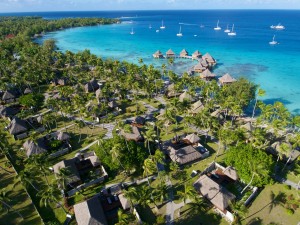 Photo Courtesy of Hotel Kia Ora
Rangiroa is a part of the Tuamotu atolls and is comprised of 240 tiny islets, which surround a seemingly endless lagoon. In fact, from point to point, the lagoon is 110 miles long, making Rangiroa the second largest atoll in the world. Besides being known for its size, Rangiroa is also known as one of the world's best diving locations. One of the best diving spots is the Tiputa Pass, which allows you to do a drift dive or snorkel. This is also known as "shooting the pass". The current pulls you through the pass, allowing you to just watch the abundance of fish below as you float by. In between dives, you can also enjoy day excursions to the blue lagoon to enjoy the pink sand beaches or to the bird sanctuary. Hotel Kia Ora also loves to arrange deep sea fishing excursions for their guests. In fact, the manager may end up joining you on your fishing trip!
Hotel Kia Ora and Le Sauvage are two of only three resort-type accommodations in Rangiroa, though they are the only five star options. Although both properties fall under the same management, they are not located together on the atoll. Hotel Kia Ora is the main property, which is located just 5 minutes from the Rangiroa airport. Upon arrival, a staff member will be waiting for you to drive you to the property. Hotel Kia Ora was renovated just a few years ago and has a total of 60 rooms, with most located the beach. The beach bungalows have several categories- beach bungalow with Jacuzzi, deluxe beach bungalow with pool, and beach suite (2 bedrooms) with Jacuzzi. The deluxe beach bungalows have the most privacy and are the most sought after accommodations of the property. There are only 3 of these deluxe bungalows, so be sure to secure your booking early! The remainder of the accommodations are split between overwater bungalows (10), garden villas with pools (20) and junior suites (4), which offer a little extra space than the garden villas. There is also an Executive Villa, which is ideal for families or couples traveling together. The Executive Villa has two bedrooms, two bathrooms, and a pool. For those who want privacy but want to get the best value, we recommend the garden pool villas. They are spacious, well appointed, and just a short walk to the beach.
Hotel Kia Ora also offers a top notch resort facility, including a magnificent infinity pool that mimics the color of the lagoon, two thatched roof restaurants over looking the lagoon, an overwater bar that is perfect for reed shark watching at night, and a spa. If you feel so inclined, there is also an onsite fitness center. However, our recommendation for exercise in Rangiroa is to rent a bicycle and explore the main islet. You can ride toward the airport to check out various local shops and snack stands or toward the Tiputa Pass, where you might see dolphins playing along the shoreline.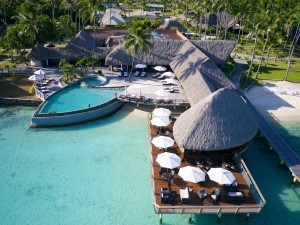 Photo Courtesy of Hotel Kia Ora
If you prefer to stay at Hotel Kia Ora's sister property, Le Sauvage, you will need to make a stop at Hotel Kia Ora first. Due to flight schedules, it's most likely that you will need to spend your first and last night at Hotel Kia Ora, along with a two night minimum at Le Sauvage. To get to Le Sauvage, you will catch a boat for the hour long ride across the lagoon. So, why spend an hour in the boat and two nights on either end at a different resort? Well, Le Sauvage is a truly unique experience that someone who craves pure paradise can surely not miss! Le Sauvage is an eco-friendly, remote resort with only 5 extremely private beach bungalows. What makes Le Sauvage so unique is that the resort is completely disconnected- no TV, no radios, no phones, and even no electricity! The resort runs on battery and solar and, at night, guests are provided with oil maps. While on the island, you can enjoy various activities such as snorkeling, reef exploration, fishing, canoeing, and kayaking. Or, if you just want to relax, your bungalow has a hammock and lounge chairs. They are perfect for laying around and just enjoying the natural beauty surrounding you. If you're concerned about food, the resort has a snack bar and refreshment area, along with a restaurant that primarily serves fresh seafood.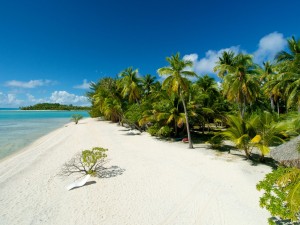 Photo Courtesy of Hotel Kia Ora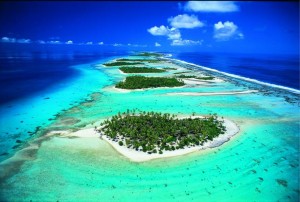 Photo Courtesy of Hotel Kia Ora/Le Sauvage
Rangiroa is reached via interisland flight on Air Tahiti from either Tahiti or Bora Bora. If traveling to Rangiroa from other islands, you must stop at one of the aforementioned islands first. Upon arrival, land transfers to Hotel Kia Ora can be arranged by your travel agent from the airport. A stop at Hotel Kia Ora is required before heading on to Le Sauvage. We highly recommend a stay at Hotel Kia Ora if you are looking for a high quality property in a remote setting or if you are an avid diver. It's also an excellent place to just disconnect or explore the islands of French Polynesia in a less touristy setting. We highly recommend a stay at Le Sauvage if you are looking for a little adventure or you would like to completely disconnect from reality in every way possible. A stay at either resort on Rangiroa pairs well with a stay on Bora Bora for those who want a blend of relaxation and activity. The Hotel Kia Ora also pairs well with the Tikehau Pearl in Tikehau. The "dual atoll" combination is perfect for divers or those who just want complete solitude . While we may be able to stay on the atolls for weeks on end, we recommend no more than 3-4 nights on the atolls, especially for those who require a wide choice of activities. For additional information on the resort, please feel free to check out our trip review from our most recent stay in Rangiroa.
Please contact me with any additional questions or to book your Rangiroa Escape!!!
#IslandsofTahiti #HotelKiaOra #LeSauvage  #Rangiroa #Tikehau #BoraBora #Tahiti #southpacificislandescapes
You might also like